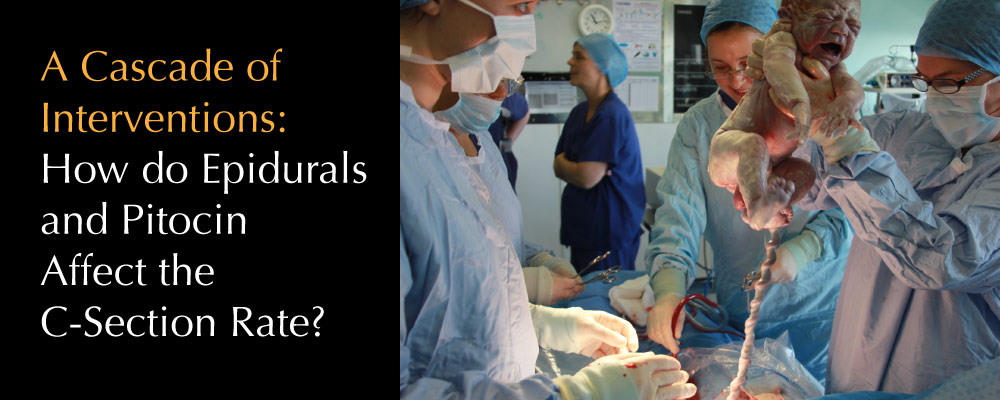 What are first-time moms saying about interventions?
Childbirth Connection, as a core program of the National Partnership for Women & Families, conducts wonderful and informative surveys asking women their thoughts and experiences with childbirth. Every few years they publish a "Listening to Mothers" survey. They asked questions about labor and birth interventions to new mothers in the most recent survey Did they receive pitocin, epidural, or both during the labor process? They wanted to know if the mom ended their first-time labor and birth experience with a c-section. The results clearly show that when these interventions are used, the likelihood of having a c-section increases.
While c-sections and pitocin as well as other interventions are sometimes necessary (and greatly appreciated!), there is definitely an overuse of these resources. The infographic below shows that when no induction (Pitocin) and no epidural were used, only 5% of first-time, full-term, mothers required a c-section. Inversely, when both Pitocin and epidural were used, 31% of first-time, full-term mothers required a c-section. Also, the infographic below contains added information about risks and complications for Pitocin, epidurals, and c-sections.
Midwives are specifically trained in a "hands off" approach. If a pregnant woman and baby are healthy, and there are no "red flags" during pregnancy and labor, she will be encouraged to give birth however is most comfortable for her. Interventions will only be used if a definite, evidence-based problem is detected, and life-saving measures are needed.
There are also other types of interventions that can negatively impact your birth experience such as manual breaking of the water, membrane stripping, restriction of movement during labor, IVs, other drugs, continual fetal heart monitoring, and episiotomies among others. Educate yourself about these interventions and when they are truly medically necessary. Talk to your midwife or doctor about the risks ahead of time and make sure you are given true informed consent before an intervention is used.